CURRENT ALUMNI ACHIEVEMENTS - May/June 2014
May 16, 2014
Many achievements and honors awarded our Studio alumnus are reported almost everyday. May is an exceptional month so far. A TONY AWARD was WON by Chelsea Repertory Company alumnus designer, Beowulf Boritt (Top Girls/Vinegar Tom, Twelfe Night) this Broadway season for "best scenic design" for his spectacular stage design for the play ACT ONE at Lincoln which has garnered a number of Tony nominations. Beowulf's set boasts the largest turntable setting ever to appear on a Broadway stage. Congratulations Beowulf!
Actor Adam Rothenberg's popular series, RIPPER STREET, was picked up again for a 3rd season on BBC America. Actor Ato Esaandoh, will be filming a recurring role this June in the pilot of a new Martin Scorsese/HBO series (yet untitled). The pilot/series stars Bobby Cannavale and Ray Romano and is about the rock industry in the 70's just before punk and disco emerged. Studio member Andrea Navedo will be recurring in a principal role as Jane's mother in JANE THE VIRGIN an upcoming American serial comedy-drama television series to air on The CW. Studio playwright Michael Aguirre (Almost A Fantasy/The Mountain King) was accepted to the Woodstock Byrdcliffe Fellowship and Residency which is an artist colony for 4 weeks up in Woodstock to work on writing. The script Michael submitted for consideration was MOUNTAIN KING which was developed in the studio's Playwriting class taught by Anne Phelan and then mounted in production last winter at the studio as part of the Chelsea Rep LAB e-Merging Artists 1-Act Play Festival 2013.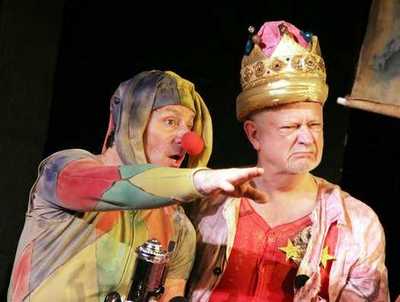 Studio alumnus and faculty member Grant Neale is performing Off Broadway and receiving great reviews in a new play which he also directed THE FOOLS LEAR with the Phoenix Theatre Ensemble and Nomad Theatrical Company.
Studio member writer/director Donald Gray's film, THE WEST BEGINS AT FIFTH AVENUE, about a boy who fantasizes about the Wild West while growing up in the slums of 19th-century New York City has been nominated for three 2014 Independent Vision Awards - Outstanding Achievement in Production- Writing and Production design. The film won the award for Production Design. Faculty member, director Nicole Ricciardi, will be traveling to Boston to reset her show CASSANDRA SPEAKS for the Nora Theatre Company running June 5-29 at Central Square Theater. Studio Lab members Greg Cohan and Alison Parks are reprising their characters created last year in THE BALLAD OF RODRIGO in a new sequel DOUBLECROSSED for Funny Sheesh Productions. And Studio member and award-winning producer/actress/director, KYM GOMES will present a reading of her latest project WHEN JANEY COMES MARCHING HOME - The Play on Friday May 30th @ 3 pm as part of the Planet Connection Theatre Festivity. The reading is being directed by the Studio's associate director John Grabowski and features a number of Studio members including Corrie Rahn Blissit, Valerie Donaldson, Kym Gomes, Rosa Rodriguez, Ravin Patterson, Courtney Sturm, Katia Thomas, and Ashley Trawinski. A film starring Studio member Ashley Trawinski, THE YOUNG HOUSEFLY, is a semi-finalist for an Academy Award for Student Shorts, and she and others went to the Academy for the ceremony two weeks ago. Studio alumnus-staff member, Anna Cianiciulli's film STAY which she wrote and directed was selected by the Manhattan Film Festival and the Central Florida Film Festival 2014.