HOBSON'S CHOICE - Performance Workshop - A Critical Success!
June 18, 2013
Chelsea Rep announces casting for their production of Hobson's Choice:
The Acting Studio's 2013 Performance Workshop class presented the rollicking comedy Hobson's Choice by Harold Brighouse August 8-17 in Theater 54 located at the studio. Hobson's Choice takes place in Salford, a city near Manchester in northern England at the height of the Industrial Revolution. The play is part Cinderella, part King Lear, part Pygmalion, and part Samuel Beckett, and it has delighted generations of theatre-goers in many notable productions and movie-goers in David Lean's famous 1954 film adaptation.
From the current Performance Workshop class, Katia Thomas will appear as Maggie, Vergell Bastien as Alice, and Alicia Brayboy as Vickey, Hobson's three daughters. Chris Chirdon will portray Willie Mossop and Andy Reyes will play Albert Prosser, suitors to two of the daughters. John Zion will play Jim Heeler, Hobson's boon companion.
From the Studio's Technique 1 classes, Jessica Greenwald and Brooks Russell will play Ada Figgins and Fred Beenstock respectively.
Hobson's Choice and Harold Brighouse:
Hobson's Choice is Harold Brighouse's most well-known play. It is studied in classrooms throughout the UK in much the same way The Glass Menagerie is studied here. Brighouse is an English playwright and author who was born in Salford in 1882. He was a prominent member of a group of dramatists known as the Manchester School who were active early in the 20th century at Annie Horniman's Gaiety Theatre in Manchester. Their plays were based on country tales of Lancashire and on the struggles of working people in the industrial north of England, and they were noted for their realism. Horniman's theatre was a leading light in the English repertory theatre movement. Brighouse's other plays are Lonesome-Like, Zack, and Garside's Career. He is also known for the novel Hepplestalls about a Lancashire mill-owning family in the 19th century. He became a drama critic for the Manchester Guardian and died in 1958.
Hobson's Choice was first performed in America in 1915, playing for over 100 performances at the Princess Theater (a long run for that time). It later transferred to the London's Apollo and Princess of Wales theatres, where it was also a hit. It was adapted into a successful film in 1954. Directed by noted director David Lean (Oliver Twist, Lawrence of Arabia, Doctor Zhivago), it starred Charles Laughton, John Mills, and Brenda de Banzie. The play was rediscovered in 1964 in a production at the Old Vic directed by stage and opera director John Dexter (Equus, M. Butterfly) and it featured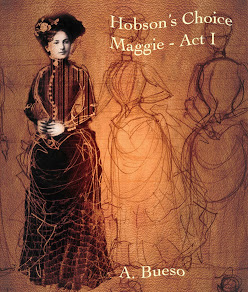 Joan Plowright and Frank Finlay. It has since become a staple of repertory theatre across the UK and around the world. It has been adapted into a ballet by David Bintley for the Sadler's Wells Royal Ballet and into a chamber opera. It also served as the basis for the 1966 Broadway musical Walking Happy with music by Jimmy Van Heusen and lyrics by Sammy Cahn and featured the beloved British entertainer Norman Wisdom in the role of Willie. It was revived in New York at the Atlantic Theatre in 2002 with Martha Plimpton as Maggie and Brian Murray as Hobson.
(Renderings are by production designer, Arnold Bueso.)