Chelsea Rep LAB presents DIRECTOR'S CHOICE-SPRINGFEST 2015 One-act Play Festival MAY 14-23.
May 12, 2015
The final directing projects from the current Directing 2 class are featured in this year's annual DIRECTORS CHOICE-SPRINGFEST 2015 a one-act play festival presented by the Chelsea Rep LAB featuring new directors Kendall Shen, Michael Hoffman and Natalia Yandyganova. The festival also features three plays directed by veteran guest directors Bruce Hermann and Harold Baldridge. The Festival of six plays running on two bills opens May 14 running through the closing night on May 23. The festival is be presented in THE BRIDGE THEATRE at the studio located at Shetler Studios at 244 West 54 Street on the 12th Floor. 
Plays being presented on EVENING A are: THE BLUE DJINN by Tom Rowan, directed by Kendall Shen and featuring Robert Vail and Jayson Simba; FORTITUDE by Kurt Vonnegut, directed by Natalia Yandyganova and featuring Kyle Siver, Tish Brandt, Katherine Kine, Jake Nevola and Rowdy Montgomery.

Plays being presented on EVENING B are: YOUTOPIA by Chaney Kwak, directed by Michael Hoffman  and featuring Cody Calderon, Asra Arif, Briana Redmount, and Wayne Joseph;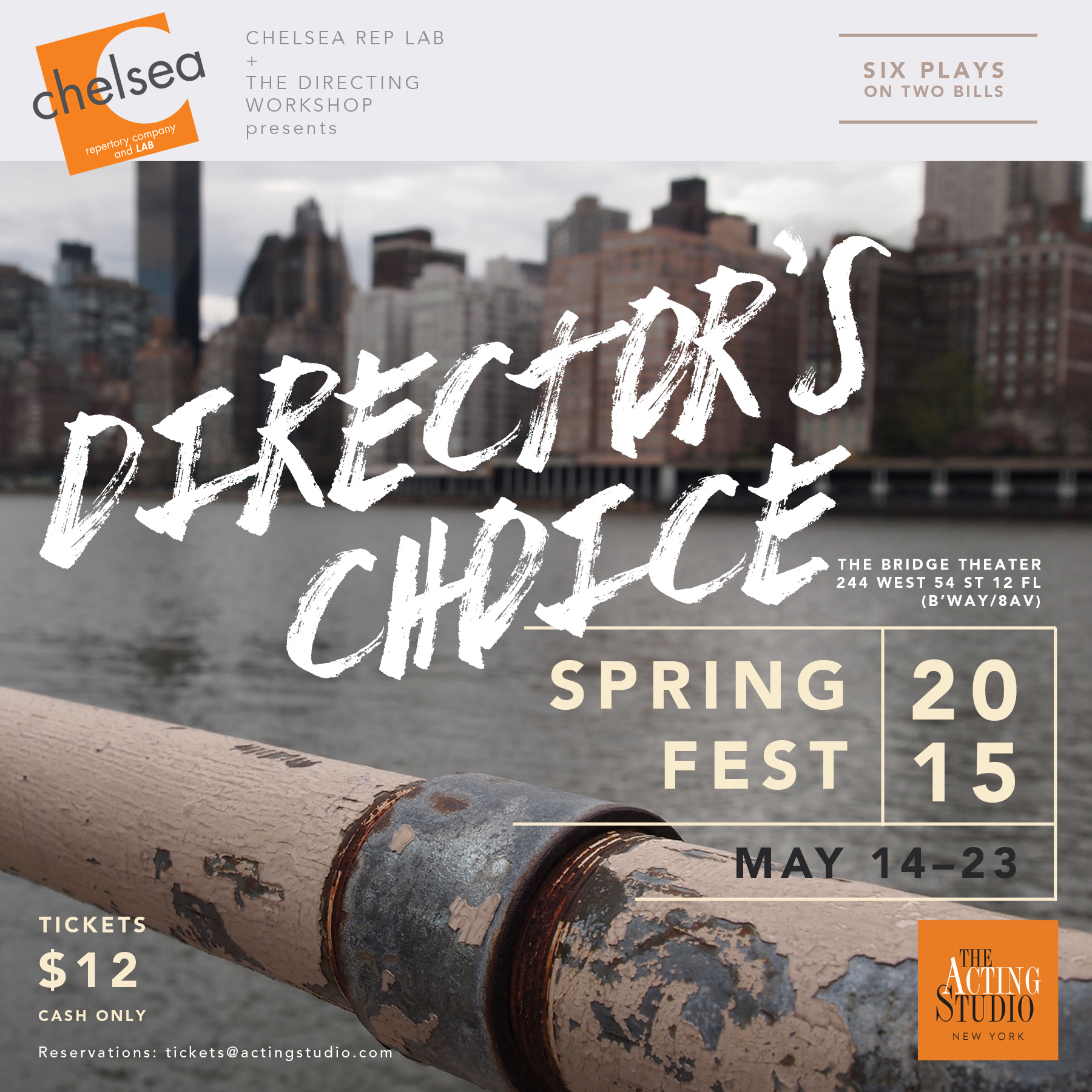 BILLY PHELAN'S GREATEST GAME by William Kennedy, directed by Bruce Hermann and featuring Angie Muscat and Fellipe Cordoso;  THE HUMAN CONDITION by Mary Humphrey Baldridge, directed by Harold Baldridge and featuring Sarah Bernero and Steven Dawson; and lastly THE CHALKY WHITE SUBSTANCE by Tennessee Williams, directed by Harold Baldridge and featuring Rowdy Montgomery and Hunter Wolfson. Tickets are $12 and may be reserved at: tickets@actingstudio.com.
Ticket information at Chelsea Rep BOX OFFICE.