Parent Testimonials
Parents of out-of-town students training at The Acting Studio - New York can feel secure in knowing that their son or daughter are in capable hands at a reputable school. The Studio is genuinely concerned for the development and well-being of all its students and requires professional discipline of students, staff and all people involved at the studio. Since its inception in 1983, many parents and family members have expressed their pleasure and gratefulness for what The Acting Studio - New York's training program did for their son or daughter. We are starting to post their comments for the parents of prospective students to aid them in their decisions.
August 2013
Dear James and John,
Julie and I offer our profound thanks for the love and commitment you have demonstrated in transforming our daughter Katia's dream of becoming an actor into reality. We witnessed that transformation in her riveting performance as "Maggie" in the Performance Workshop Production of "Hobson's Choice" two weeks ago at the Shelter Theatre 54 I wasn't watching my daughter on stage, I was engrossed by the character, "Maggie," who made the complexity of each scene, from dialogue to interaction with the other actors seem spontaneous and effortless. The long hours of training under your tutelage, and John's spot-on direction gave Katia presence, charisma, and magnetism. Her portrayal was also imaginative and you could feel Maggie "…living in the moment."
We have always told Katia she would find success at the intersection of preparation and opportunity. We thank both of you for preparing her to take advantage of the opportunities she will surely have in her acting career. Her success will be a tribute to the professionalism of the instruction she received at The Acting Studio, Inc., and the personal care you and your associates brought to developing the talent Katia has for the magnificent art of acting.
We wish you and The Acting Studio the best now and in the future.
Sincerely,
Bruce E. & Julie G. Thomas - Washington, D.C.
Congratulations to James Price in association with The Acting Studio and the Chelsea Repertory Company under the direction of John Grabowski in presenting Hobson's Choice.
We were fortunate to be able to see our son's performance as William Mossop in the play Hobson's Choice. Thank you for the training and effort you have given Chris over these past two years to prepare him for his future. As his Mother I may have picked a safer path for my son to take as a career choice than to become an actor but it is hard to discourage a dream even if it totally scares you. Chris was always a good actor but was he good enough to make it in New York was the question I kept asking myself. Two years ago we traveled up to New York to see Chris in Romeo and Juliet and it was exciting to see him again performing on stage. He had a lead part and the stage was in New York so maybe this was going to work out after all. To be honest I still was worried as I left for home.
What a difference a few years makes under the tutelage of James Price at The Acting Studio - New York in Chris's acting ability. He has improved and grown so much. I knew Chris came alive on stage but I always saw Chris acting his part. In this play I forgot it was my son on stage he was the character and what a touching performance he gave. Under the direction of John Grabowski Chris became William Mossop. I believe the training Chris has received is invaluable and I am grateful for that training. I'm feeling so hopeful for his future and am confident in his success. I told Chris after I saw this play that I don't have to worry about him any longer. I believe you will make it now.
Thank you from a grateful and hopeful Mother.
Sincerely,
Marcy B. Chirdon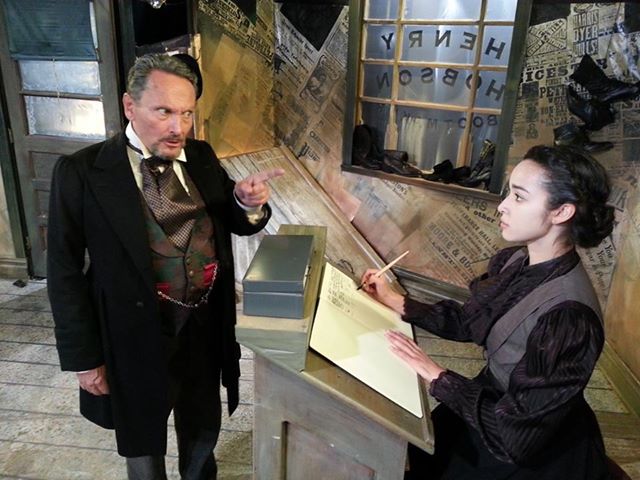 Katia Thomas as "Maggie" in HOBSON'S CHOICE
August 2013
Dear James,
Thank you for the kindness you have shown Christopher. The training that Christopher has received at your acting school has improved his acting skills. (Marcy and I have heard through others how much our son has improved with acting.) Because of your contribution to Christopher's career, I believe he now has a good chance to act on the biggest of stages-Broadway and even Hollywood.
Sincerely,
Greg and Marcy Chirdon
Charlotte, NC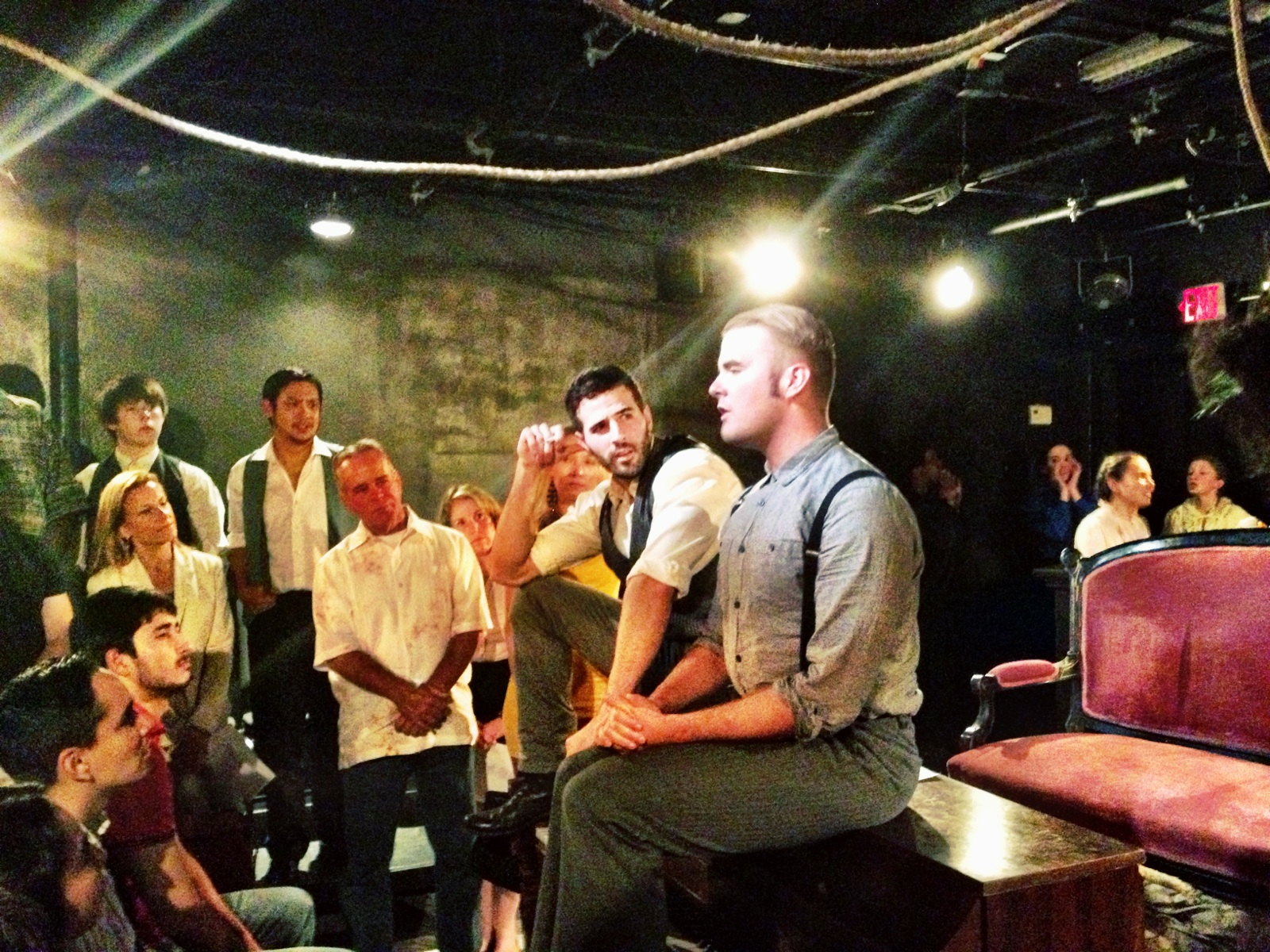 Christopher Chirdon in SPOON RIVER ANTHOLOGY (Aug-2013)
Christopher Chirdon & Katia Thomas in HOBSON'S CHOICE (Aug-2013)